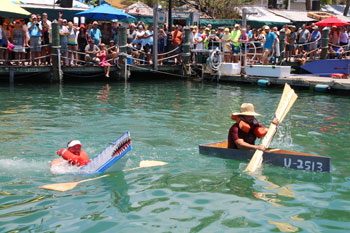 31st ANNUAL SCHOONER WHARF MINIMAL REGATTA
Calling All Boat Builders and Would-Be Shipwrights
Supplies are limited, but the creativity is endless at Schooner Wharf Bar on Sunday, May 29th, for the 31st Annual Schooner Wharf Minimal Regatta.
Each 6 member team must build a boat seaworthy enough to stay afloat for the entire race course in the Key West Bight in front of Schooner Wharf .  The catch—the boats are made of plywood, fasteners, duct tape, and 2′ x 4's.
                                        Minimal Regatta Construction Rules
                                         1.  One sheet of 4′ x 8′ x 1/4″ plywood
                                         2.  Two 2″x 4″ 8′
                                         3.  One pound of fasteners
                                         4.  One roll of 2″ x 60 yard duct tape
                                         5.  No caulking or adhesives – Epoxy paint is permitted
                                         6.  Painting of boats is optional
                                         7.  Oars/Paddles must be made out of these materials
There are two categories of "Minimal Vessels" — Kayak/Canoe Design & Open Design.  Competitors will win prizes in each design group for Fastest – 1st & 2nd Place . Other prizes are awarded for the Most Creative Designs – 1st & 2nd Place, Best Paint Jobs, Best Costumed Entries, Sportsmanship Awards, and Sinker Awards.
Whether you're a participant or a spectator, it's a memorable Memorial Day weekend with drink specials, live music with Gary Hempsey and Friends followed by the steel pan sound of the islands with the Reach Out Trio.
Enjoy a great Memorial Day BBQ and lots of laughs at the craziest regatta you've ever seen.
The $20 entry fee will benefit a local military organization.  Each team will receive 2 collectable Minimal Regatta shirts – Register by May 26th and receive two additional shirts for your team!
Pick up your entry form at Schooner Wharf Bar today
 or visit their website next week at 
SchoonerWharf.com
Vessel Registration starts at 11:00 a.m.
Vessel Inspection starts at 12:15 – (A great time to check out various crafts up close)
Course Demonstration at 1:15
First Heat soon after Course Demonstration