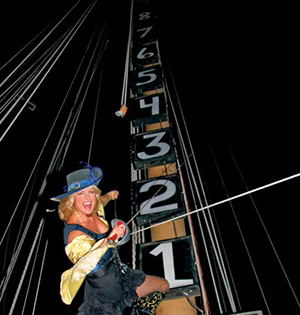 \
Join your friends and make new ones at the Schooner Wharf Bar New Year's Eve Celebration. The popular waterfront watering hole once again will present its unique and original nautical New Year's Eve tradition with "The Lowering of the Pirate Wench" from the towering mast of the tall ship America 2.0 docked in front of the bar in the Key West Bight.
Everyone's favorite pirate wench and owner of Schooner Wharf Bar, Evalena Worthington, will descend dramatically against large, illuminated countdown numbers. The stroke of midnight will signal the start of 2022 with cannon fire and the jubilant sound of horns and noisemakers from the crowd against a backdrop of the ship's crew dressed as pirates. Adding to the festivities will be video and slideshow of highlights of past New Years Eve bashes in and surrounding the bar!
Schooner Wharf has complimentary hats, party favors and horns for everyone to feel festive while enjoying holiday drink specials and live music throughout the day and night. The bash was rated by AOL as the No. 2 New Year's party in the nation – second only to the Times Square madness in New York City. The Schooner Wharf event made the Huffington Post's 13 Amazing New Year's 2014 Photos From Around the World. Rob O'Neal's photo of Evalena at Schooner Wharf in Key West was the only photo chosen from this continent!
Taking the stage from 11:30 A.M until 4:30 P.M. is stalwart Key West troubadour Michael McCloud, delivering humorous repartée and original songs that exemplify life at this tropical latitude. Next up enjoy a second round of topnotch live music from reggae grammy winner Dave Richards & Friend on stage 4:30 P.M- 8:30 P.M. Headlining from 9:00 P.M. 'til late is the dynamic sound of Sushi Roll, a musical act that brings the crowd on a high energy, dance driven pop overdrive with over-the-top theatrical verve! It's a unique blend of dance music and rock 'n' roll swagger guaranteed to get you groovin' and dancin' into the New Year!
As the midnight hour approaches, a popular local DJ will play party favorites in anticipation of the Auld Lang Syne. Hoist your drink – and your eyes – toward the top of the towering mast as the countdown begins and another year ends. But the end of the year isn't the end of the party – the Schooner New Year rocks until 4:00 A.M! All this and NO COVER CHARGE!
For more information, please call Schooner Wharf at (305)-292-9520, visit www.Schoonerwharf.com, or find Schooner Wharf Bar on Facebook.