Start 2023 Off On The Right Foot (or Boat)
at
the Key West Historic Seaport!
Happy New Year! It's officially 2023, and at the Key West Historic Seaport, there are more options than ever for dining, drinking, shopping, fishing, and enjoying a whole bunch of watersports adventures. You can find information on all of these activities on the Historic Seaport website, but in the meantime, here are a few options that are sure to get your new year started off on the right wave! Let's check them out.

But First, Coffee (from Cuban Coffee Queen, of course)!
With three locations in Key West, you can get a delicious caffeine buzz by ordering from Cuban Coffee Queen! Featuring options for dine-in, pick up, and delivery, give them a call at 305.292.4747 and get freshly brewed coffee that will have your tastebuds doing somersaults. Plus, if you're hungry, ask about their Sunrise Special!
Soak up Some Adventure with Watersports and Sailing
Are you ready to set sail on the open ocean, wind in your hair, drink in hand? Restless Native's unique "Day Sail" is ready for you to swim, snorkel or just play on some floaties! Restless Natives charter depart to some amazing places to sail, snorkel, free dive, SCUBA or just relax! We arrive back at the dock just in time for your next adventure.
Shop Til You Drop (Minus the Drop Part) ALL YEAR ROUND!
Hammerhead Surf Shop is located in the famous Key West Historic Seaport along the harbor-walk waterfront. We only offer the best brands in the surf industry to keep you looking your best downtown or out on the water. We keep up with the latest trends and have something for everybody. Hammerhead Surf Shop is Key West, Florida's Premier Surf Shop and your one stop shop for fashion!
Annual Schooner Wharf Bar Wrecker's Cup Race Series – Sunday, January 29
The much anticipated first race of the Schooner Wharf Bar Wrecker's Cup Race Series is scheduled for Sunday, January 29 at 1:00 p.m.The course is seven miles from Key West Harbor to Sand Key and re-enacts the ancient wrecking tradition of Key West: A series of ruthless one way races to the reef to claim the booty.
This all-in-fun race series recalls the tradition of the wreckers in the Key West of the 1800's. Vessels laden with rich cargoes from Gulf and Caribbean ports often became victims of storm and the unmarked reefs off Key West. The first wrecker to reach the site had the responsibility to save the passengers and crew—but they also won the right to salvage the cargoes. Some historians have written that it was not unusual for 20 or 30 boats to race to a wreck.
The Captains' Meetings are held in the Sail Loft at Schooner Wharf at 7:00 p.m. the Saturday before each race. Captains enjoy complimentary Pusser's Rum punch while reviewing race procedures. The Awards Ceremony & Party is held at 7:00 p.m. on Sunday, race day. Captains & crew can see themselves under sail while viewing film footage taken of the race by the official race committee boat. Gabriel Wright will be entertaining with current and classic favorites. You can register online HERE! For more information, please contact Evalena at or Sheree at 305-292-9520.
Super Bowl LVII Tailgate Party – Sunday, February 12 at Schooner Wharf Bar!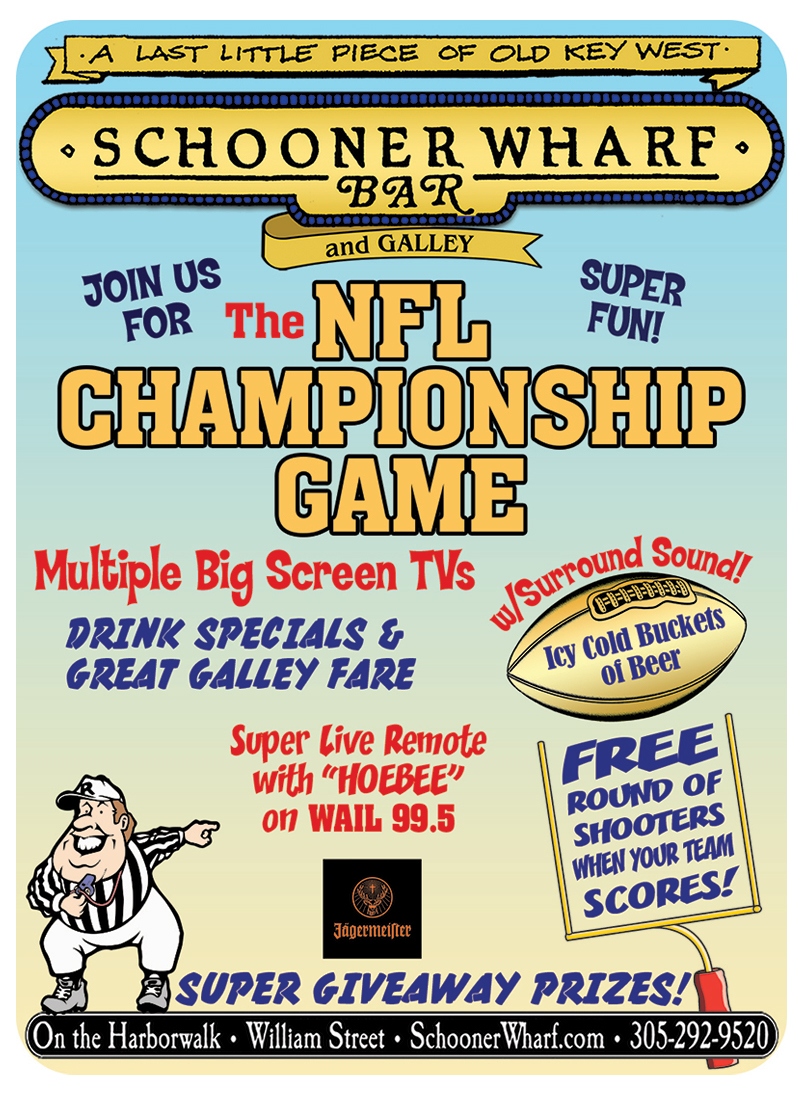 Spend your NFL Championship Sunday under the stars at the popular harbor walk hangout, Schooner Wharf Bar, on February 12th!Watch the big game at the Schooner Wharf Bar tropical yard line. Sit dockside and watch the game on huge outdoor screens and several televisions with surround sound throughout the bar. Football fans: Enjoy free shots when your team scores, great giveaways, Icy cold beer and shots of Jagermeister, tropical specialty cocktails and a live remote radio broadcast with Hoebee and WAIL 99.5.
Finally, for more information on the wonderful restaurants, shops, watersports, fishing, and other excursions available at the Key West Historic Seaport, visit www.KeyWestHistoricSeaport.com and follow the Historic Seaport on Facebook, Twitter, Instagram, and YouTube!
P.S. Valentine's Day plans?